Cube - model qb-10 (5x2 m. 10 sq/m)
Description
Tiny one level 5 x 2m, 10 sq/m house designed for temporary accommodation, shelter, bungalow or holiday villa. It has good arrangement of the space, furniture and appliances. Foldable sofa, hidden table and closed and luggage space take care for the visitor needs. Nice well equipped bathroom and complete kitchen rise the level of comfort.
You can own this house for 49 euro per sq/m. Easy assembly DIY instructions. You can personalize wall, floor covers and finishes. The walls are from SIP panels. 5 wall, 1 roof and 1 floor modules comes in disassembled version. It will take about an hour to complete this house. Custom versions can be made by order.
We can ship internationally. This small house can fit assembled into a shipping container. Also you can order only the plans.
Uploaded at 13:51 on 13 February
Hotel capsules, furniture and portable items
Posted 15:31
Wed 13 February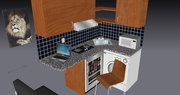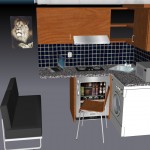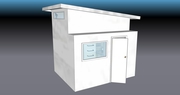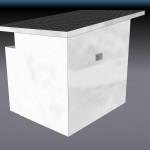 Cube presents model NYC, small house 3 by 2 meters and 3 meters in height. It's 10 feet by 7 feet and 10 feet high It is made from durable, energy efficient materials with high R value for excellent insulation. It has two levels, where two people can stay. The second lavel is designed fro two large beds, compact cabinet, place for entertainment - tv, hi-fi and suitable window. The first level provides space for cozy kitchenette with fridge, washing machine, microwave, gas oven, hood vent, sink, cabinets and place for work and eating. NYC offers confortable place for bathroom and toilet. Wash basin with mirror, instant water heater, toilets and vent. On the righ after logging into the Cube the wardrobe is located which offers space for shoes, hangers and a large mirror. All sockets and switches are placed on key points. Small blower heater can be placed on the first level. Exclusive extention on base level with 55 centimeters, will open a space for small sofa. Your NYC model can be assembled for a few hours. Final coats, furnitures and apliances can be installed by the owner.
Posted 14:36
Wed 13 February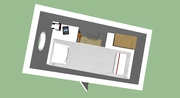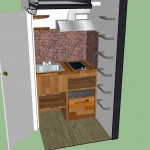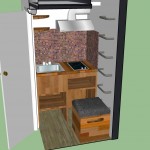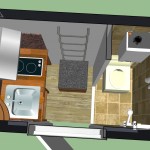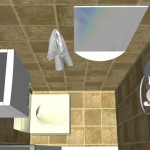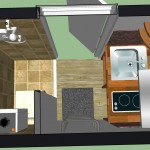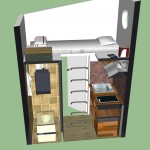 Improved version of Worlds smallest house which we design a year ago. We remake the and try to free more space and also get a kitchen inside. It's made from the same super efficient SIP panels. It can be shipped very easy worldwide. The owner can install the finish coats, furniture and appliances. It is perfect and working model for hotel capsules. It size is 2 x 1 m. (2 sq/m) and 3 meter high. Plans for this little house cost 49 euro. Two persons can assemble the panels for the house for an hour. There is few attempts for world's smallest house by other designers and architects which we cant approve or understand as houses. Thumbleweed design is good, but it's not small enough and it can be World's smallest house. One modern house must have at least:
1. Kitchen area with stove, sink, washer and fridge.
2. Bathroom, toilet, hot water boiler (heater).
3. Bedroom or sleeping loft.

However, we are very pleased with the work and ideas of Paul Elkins. We think his models can really called small or portable homes.